Having first trained as a timberframer and then as a woodcarver in Northern Germany, I discovered the joys of greenwoodworking in Britain in the late nineties, and it quickly became a passion.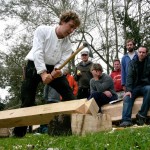 Amongst others I learned the secrets of the trade from Mike Abbott, Hugh Roberts and Robin Wood.
Together with my British wife Katy, a skilled woodcarver and chairmaker herself, we live and work in Nieperfitz, a small village at the edge of Göhrde forest, a large and beautiful ancient woodland that used to be the hunting ground of the Hanoverian kings.
There we run our workshop, the Atelier Gehölz & Gestalt in a converted barn.  We keep a good stable of shaving horses and pole-lathes, regularly giving courses in greenwoodwork and chairmaking. We also design and build furniture and sculpture, and write and translate for woodworking magazines.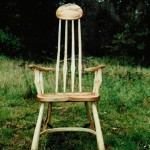 Although located out in the sticks, we are not far from both Hamburg and Hannover and easily accessible from both those airports by public transport.
If you are interested in joining any of our courses (booking teaching in English is always possible on any of them, without any extra charge), please send us an email and we can talk about the details.
The area we live in, the Wendland, is also renowned for its beautiful timberframed villages and unspoilt countryside, so why not combine a visit to us with a slightly longer holiday.